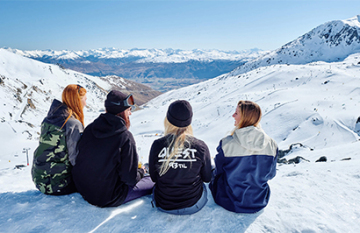 NZSki Snowline Bus: Hotel Pick Up and Return Pass
Relax and enjoy the scenic journey to and from Coronet Peak or The Remarkables aboard one of the dedicated buses. NZSki Snowline provides a return trip from your Hotel to the slopes every day of the season (weather and conditions permitting), giving you a comfortable and safe alternative for getting to the snow. No need to bother with chains or road conditions, instead you can sit back and rest up in preparation for your active day ahead and enjoy the incredible views.
NZSki New Zealand Superpass: 2 Day Lift Pass
The New Zealand Superpass is the most flexible lift pass in New Zealand, giving you access to ski and ride Queenstown's closest mountains – Coronet Peak and The Remarkables or Mtheven's Mt Hutt. Get more choice, more fun and more snow time with your New Zealand Superpass and make the most of your New Zealand holiday!
With 2 days of New Zealand Superpasses you've got lift access to New Zealand's premier ski areas plus the fun and excitement of a range of off mountain attractions in and around Queenstown and Methven. You can mix it up a little and ski a day at the Remarkables and a day at Coronet Peak or Mt Hutt, or maybe you've got your eye on a run that you want to conquer over 2 days. And remember if the weather doesn't play ball on one of your days you can always exchange one of your superpass days for an exciting off-mountain activity or towards a feast at your favourite Queenstown and Methven restaurant or cafe.
Don't own your own gear or snow clothing, or not sure if your skills are up to scratch?
No worries, chat to us about adding rentals and lessons.
Rental Equipment from Browns Ski Shop
Ride the latest in ski or snowboard technology suitable for beginners right through to heli-skiers, expertly fitted by the team at Browns Ski Shop. They also have the biggest range of boots in Queenstown to cater for all foot sizes and shapes and take the time to make sure they are correctly fitted.
Coronet Peak Ski Field
Want to challenge yourself on exciting terrain in some of the best conditions in the Southern Hemisphere? Then Coronet Peak should be top of your list. This theme park created by mother nature offers gripping trails and the extensive snowmaking facilities, makes for complete snow coverage on multiple trails. Coronet is also home to night skiing for a different take on these roller coaster trails try it under lights. For those just getting to know the snow the dedicated learner and novice areas make finding your snow feet easy and all gear can be hired on the mountain. With 25% beginners, 45% intermediate and 30% advanced, Coronet Peak has the trail for you. For a break from the snow, enjoy live music at the base building, or wet your whistle with a hot chocolate or cold beverage at Heidi's Hut. The pizza and pasta meals are great for warming you up and giving you an energy boost for the afternoon. For the little ones there are supervised kids' programmes for 3 months upwards and snow sport school for kids and big kids alike. There are regular shuttles to and from Queenstown, which is only a 20 minute drive away.
The Remarkables Ski Field
The Remarkables offers a laid-back atmosphere which is fantastic for families and those new to skiing or snowboarding. Located just 45 minutes from Queenstown, the Remarkables features a fantastic network of trails with wide, gentle slopes for beginners of all ages and big mountain runs for the experts in the family. With 30% beginners, 40% intermediate and 30% advanced, the Remarkables offers challenges for all levels and for those wanting to progress quickly, the friendly team of instructors can be with you every step of the way. While you're up there don't forget to check out the purpose-built snow tubing lanes before you round off with a steaming hot chocolate or drink at Remarkables cafe. With regular shuttles from Queenstown, childcare for 3 months onwards and lessons for 3yrs+ and complete gear hire on the mountain, this is a fun and easy day out for visitors to the South Island.
SUGGESTED ACTIVITY - The Original Onsen Evening Session
Enjoy the most memorable experience in Queenstown and surround yourself with a sky of stars and 14 Japanese lanterns as you soak up the warm waters of...
Read more
Enjoy the most memorable experience in Queenstown and surround yourself with a sky of stars and 14 Japanese lanterns as you soak up the warm waters of the Onsen Hot Pools. Nestled high into a cliff-side overlooking the magnificent Shotover River canyon, the experience is all about unwinding and soaking-up Queenstown's spectacular scenery, enjoying the pure waters and the fresh mountain air as your mind and body surrenders to the deep penetrating warmth and gentle massage of the private pools. Water temperature is set according to the day - generally between 37.8C on a hot day, to 39.8C during a snow-storm and in the summer one of the pools is kept cold for those who relish the thought of a cold plunge!
Hide